There are a few option when buying new spokes:
– Honda still sell them, but they are expensive.
– You can get someone to make you replacements
– You can buy aftermarket replacements
There are 4 types of spokes used on the 1978 z2 and there are subtle differences between each type:  the heads that lay on the outside of the hub are right angled, whereas the spokes that fit on the inside need a wider angle to fit properly.  The rear spokes are thicker than those on the front wheel and are also "butted" (thicker near the head).
As with the rims I decided that to play safe and use OEM spokes, thus hopefully ensuring they fit as Honda intended and minimising the number of things that might go wrong when I try to fit them: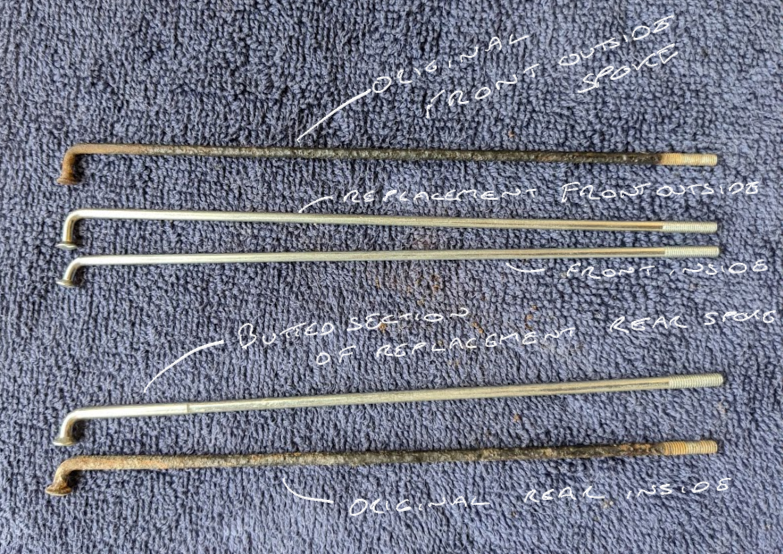 The spokes needed on this bike are
Front spokes (12 gauge):
– 18 x 159.5 mm (inside)
– 18 x 159 mm (outside)
Rear spokes (10 gauge at the butted end)
– 18 x 161.5 mm (inside)
– 18 x 161 mm (outside)
Note that  c90 wheel sizes changed over time – you will need to check the parts manual to confirm your specific spokes (the manuals are available online at CMS).  Note also the nipples need to fit the holes in the rim (the nipples are 5.1mm diameter on the z2).
Patient ebay shopping got me 46 of the required 72 spokes from NOS suppliers at about a £1 each. Annoyingly the ones in short supply are the expensive rear wheel ones so I had to buy most of those new (£3.30 each!)