This is my personal web site, the address is: https://smallworkshop.co.uk.
I run this site as a hobby and it is not used to sell advertising or products.
Data about visitors
Data that is technically necessary for you to see the content (for instance your IP address and details about your browser software and device operating system) are stored in log files on the server that hosts the website.  This data is used as part of the monitoring done to make sure the website is working properly.  The logs are deleted every two weeks.
Cookies
This website uses cookies to analyse the number of visitors to the site.   A cookie is a small piece of data generated by a website and saved by your web browser.  Its purpose is to remember information about your preferences, similar to setting preferences in a software application.  You can prevent the storage of new cookies, or remove cookies that have already been set,  by using the settings in your browser software.  
You can read about how the cookies work below. If you are not interested in the technical details, the key point is that no personal data is collected or stored for this purpose.
Embedded content from other websites
Articles on this website may include links to content (e.g. youtube videos) hosted on other websites. Embedded content from other websites behaves in the same way as if you had visited the website directly.
Google Analytics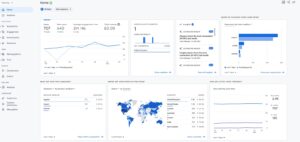 I use Google Analytics to count the number of visitors to the site, their rough geographical location and which pages were viewed.  Google Analytics uses cookies to distinguish unique users accessing the website.  Here is an example of the contents of a Google Analytics cookie[1]
GA1.1.1027862574.1614616955
GA.1.1 is the version number for the Google Analytics cookie format
1027862574 is a random number that is created the first time that you visit the site
1614616955 is the date that the cookie was created[2]
The random number is used as an anonymous client identifier and is unique to the device/browser being used.  This id is used in Google Analytics to try and distinguish new from returning users:  for instance, if you visit the site multiple times then Google Analytics will see that the same unique number is being used for each session and count this activity  as being related to a single user[3]
The data shared with Google includes:
Anonymised IP address information
the anonymous 'client id' extracted from the Google Analytics cookie
your browser user agent sting (this provides technical information about the browser version being used and the operating system running on your device).
The anonymised IP address data is used by Google Analytics to determine the approximate location of users accessing the site.  
In the UK, privacy regulations regard IP addresses as personal information: it is theoretically possible to identify actual locations (ie house number and street name) from an IP address, although this would involve gaining access to the internal records of the user's Internet Service Provider.  
The more troubling risk is that someone with access to IP level usage data for multiple sites might infringe on an individual's privacy by using the data to paint a picture of their browsing history that allows them to be identified.   Because of this risk  IP addresses are anonymised before being processed and stored by Google Analytics[4]
References
| | |
| --- | --- |
| 1⏎ | the three cookies used by Google Analytics to distinguish unique users are described here |
| 2⏎ | this is an 'epoch date': by convention dates are often stored in computers as the number of seconds since midnight on the 1st of July 1970 |
| 4⏎ | technically this means that a shortened version of the IP address is used rather than the full address. This resolves the privacy risk but, as a side effect, also reduces the accuracy of the location information in the Google Analytic reports: with a full IP address you can can be pretty confident on the users country (over 95% accuracy) and generally expect between 50-75% accuracy on the users nearest city. The accuracy decreases slightly when you use a shortened IP address to derive a location |