Got a few hours in between interruptions to fit the fascias and roof trim – great to get a bit completed at last.
I spent a good hour faffing around creating mitred corners for the plastic fascias, and although the results were passable, I am pretty sure they would have opened up as soon as the wood underneath moved, so in the end I used plastic corner caps to finish them.
As with previous waterproofing efforts I got into the zone by imagining I was a raindrop. The insights from my transcendental episode were:
cut the rubber membrane so it is just shorter than the trim
lay the rubber over the fascia
lay the trim over the rubber.
I screwed in the fascia at the top so the screw heads were hidden by the trim, and when I have installed the soffits I will pin the underside with little plastic capped panel pins I bought (color coded to match the fascias). It already feels very secure so I am not worried about it blowing away.
The trim is screwed down from the top using screws with epdm rubber washers. Since the screws pierce the rub membrane I installed some E-shaped rubber insulating tape pinched between the trim and the other side of the upstand to make sure no water gets into the holes.
I did one more trip around the roof in 'raindrop mode' and am satisfied it is watertight.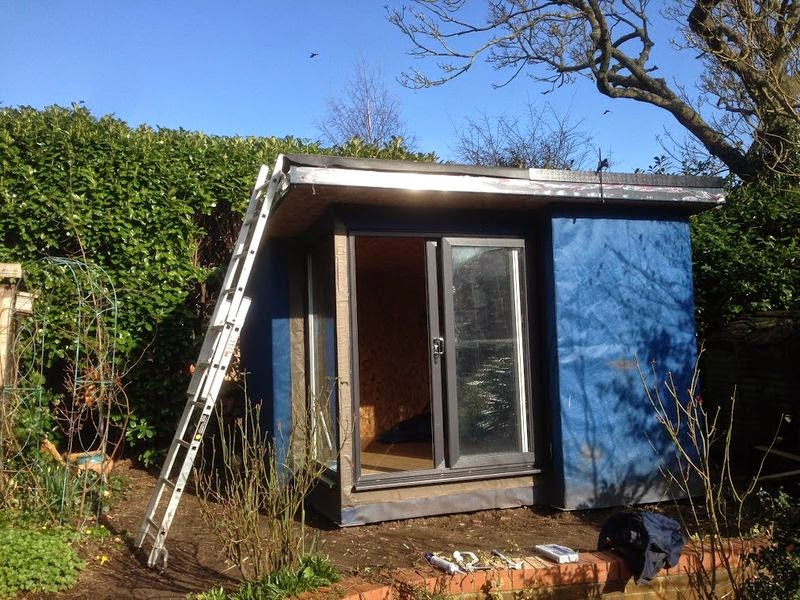 the end result doesn't look too bad, and I am glad I went for the plastic fascias now, rather than using cedar as I'd initially planned.