I finally got around to ordering the timber and it has arrived, but due to a combination of the bad weather and other things keeping me busy, it remains stuck on the drive.
The shopping part is definitely the low point of shed building, and this particular episode was not any different.
To liven things up slightly I had a senior moment while placing the order and am now the proud owner of 50' of tantalized timber that I have no use for. I will have to get my thinking cap on how to put it to good use.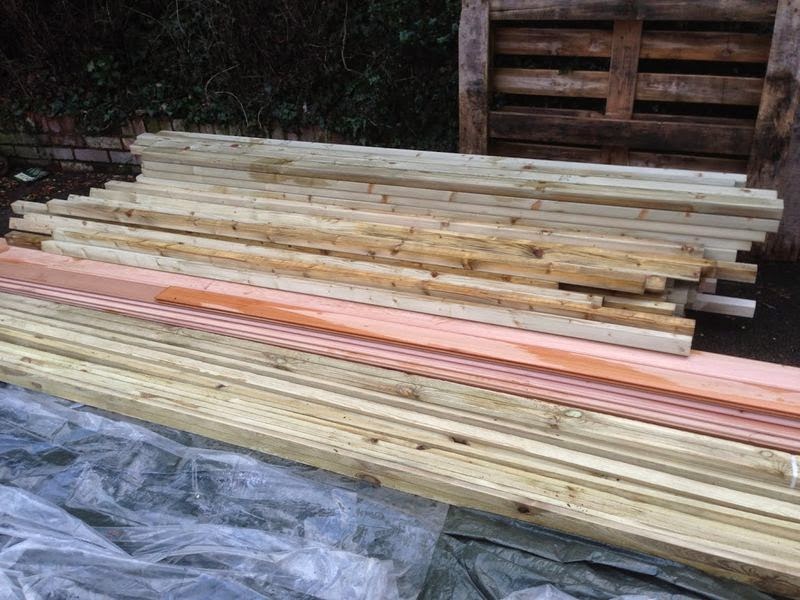 I am afraid that, despite discovering a whole range of far very interesting cladding options, I have ended up going for the predictable cedar route.
All the other materials I liked , e.g pre-painted cement boards, powder coated steel, laminated craft paper etc are all either too expensive or very difficult to get hold of in the UK. It also occurred to me that a wood finish was going to be more tolerant of my limited skill and experience (and also cheaper to rectify when I make a mistake). We shall see if this turns out to be true shortly!
I spent ages shopping around for the cheapest cedar suppliers, but in the end I went for a local timber merchant recommended by a chap down the road. It is nice to help a local business and at least I know I can pop over and get the odd bit of wood if I run short.
I am still undecided about what to do for the right-hand-side and rear faces – these are not visible from the house so my primary requirements for the cladding are that a) it must be inexpensive b) must not allow lots of water through/swell up/fall apart after a couple of years.
I am still tempted by the fibre reinforced gypsum board option, but the only truly waterproof versions I can find are pricey.  Perhaps I can get away with 'water resistant' boards – I know the paint will keep the water out from the side exposed to the weather, but will moisture get in from the other side? I suppose I could paint both sides of the board before fixing them but it all seems a bit less than ideal. Problems, problems. I will have to decide next week.
in other news
the bad weather and general lack of progress has been a great excuse to start researching a load of tools that I can neither afford nor nor have need of, but might one day install in my workshop.
Initially I was researching portable tablesaws (don't ask why I concluded this was important), but I soon got absorbed in the new-to-me world of plunge saws. So much so that I have bought one, thus blowing my flooring budget out of the water.
If I get time at the weekend I will post a summary on what I found out about plunge saws.