I'm not sure if 'barge board' is the correct term, but I don't know what else to call them – they are the black plastic bits at the bottom. Not much to say, other than the fact that my plunge saw got a bit more use.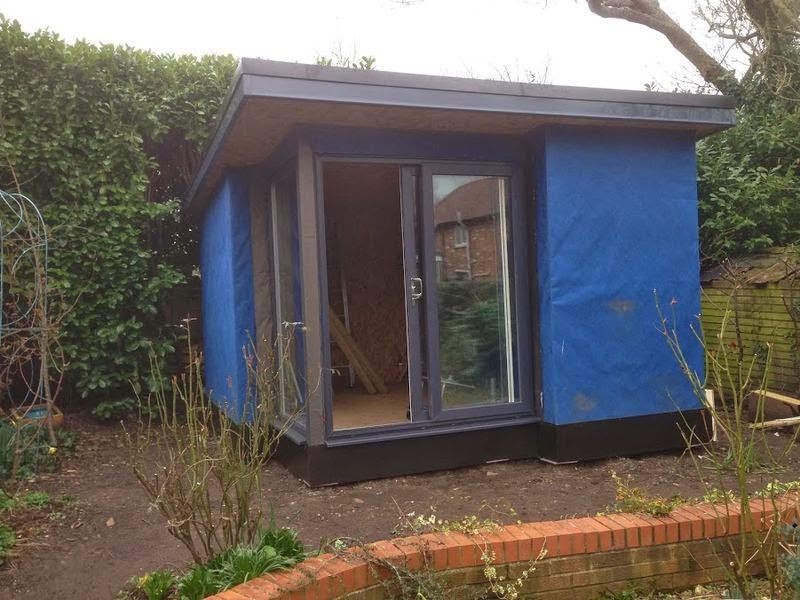 While fitting them around the metal plates the building is sat on, I had a brilliant idea for mini-plinths that do not project annoyingly from under the building, but it turns out someone just invented them!
claddng continued
I gave up on the recycled plastic cladding as it was too expensive – the best I could find it for was £55 per board, so I have gone back to my original plan of using 'moisture resistant' gypsum fibre boards from Fermacell (£18 per sheet) – I shall be discussing  fermacell vs standard plasterboard in a later instalment.
Suffice to say using this type of board outside is a bit of a gamble, since they are only recommended for 'partially exposed' areas, e.g soffits. As it happens the sides I will used the boards on are out of the prevailing wind and sheltered by the surrounding hedges, so they are not likely to get continually drenched. I am concerned, however, about the area near the base since I have noticed the rain splashes back a good 20cm and this area gets much wetter than the rest of the building.
My guess is that after a couple of years this part of the boards will either swell or start to disintegrate. luckily the fix is straightforward – just cut of the bottom 250mm (plunge saw to the rescue) and replace with a plastic barge board like on the other sides.
I intend to paint the exposed sides, so the only other source of jeopardy is that the boards are affected by moisture escaping the building and condensing on the unexposed surface. Will this be a problem? I suspect not since the board are recommended for use as the backing for cladding, which means they must be up to some degree of occasional wetting. Anyhow, we shall see – It is a grand experiment, and If I am wrong they will have to come of and be replaced with something suitable.