The Record 74 Auto Vice still show up for sale fairly regularly in the UK.  This one was a bit grotty cosmetically but in good mechanical condition: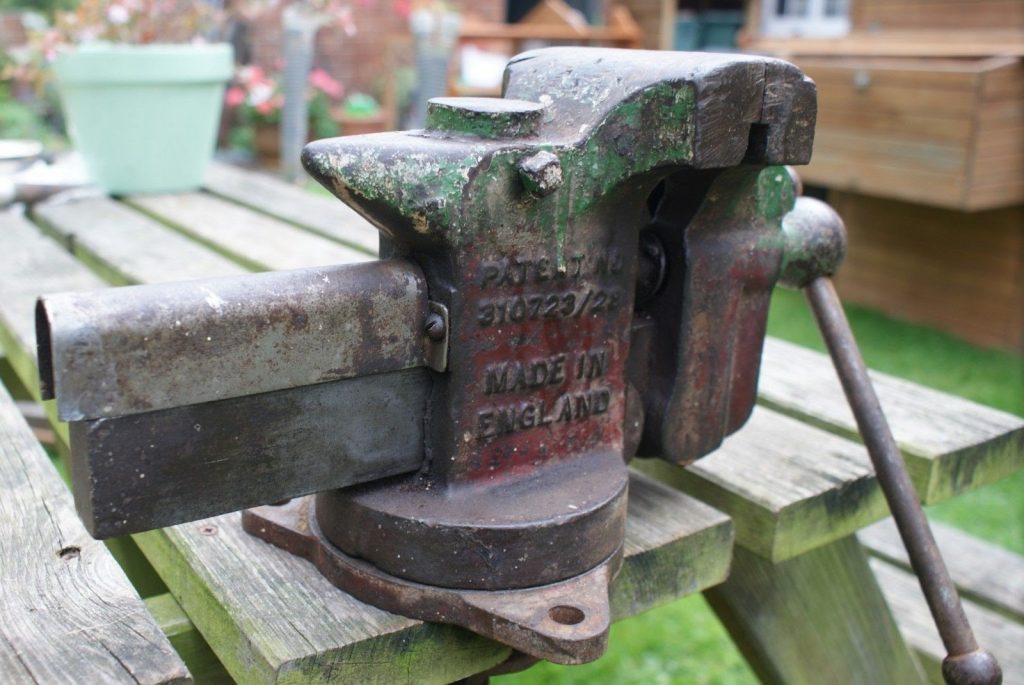 The only minor issue was that at some point the pin that retains the washer/spring used to hold the handle against the moveable jaw had broken and the washer bent as a result: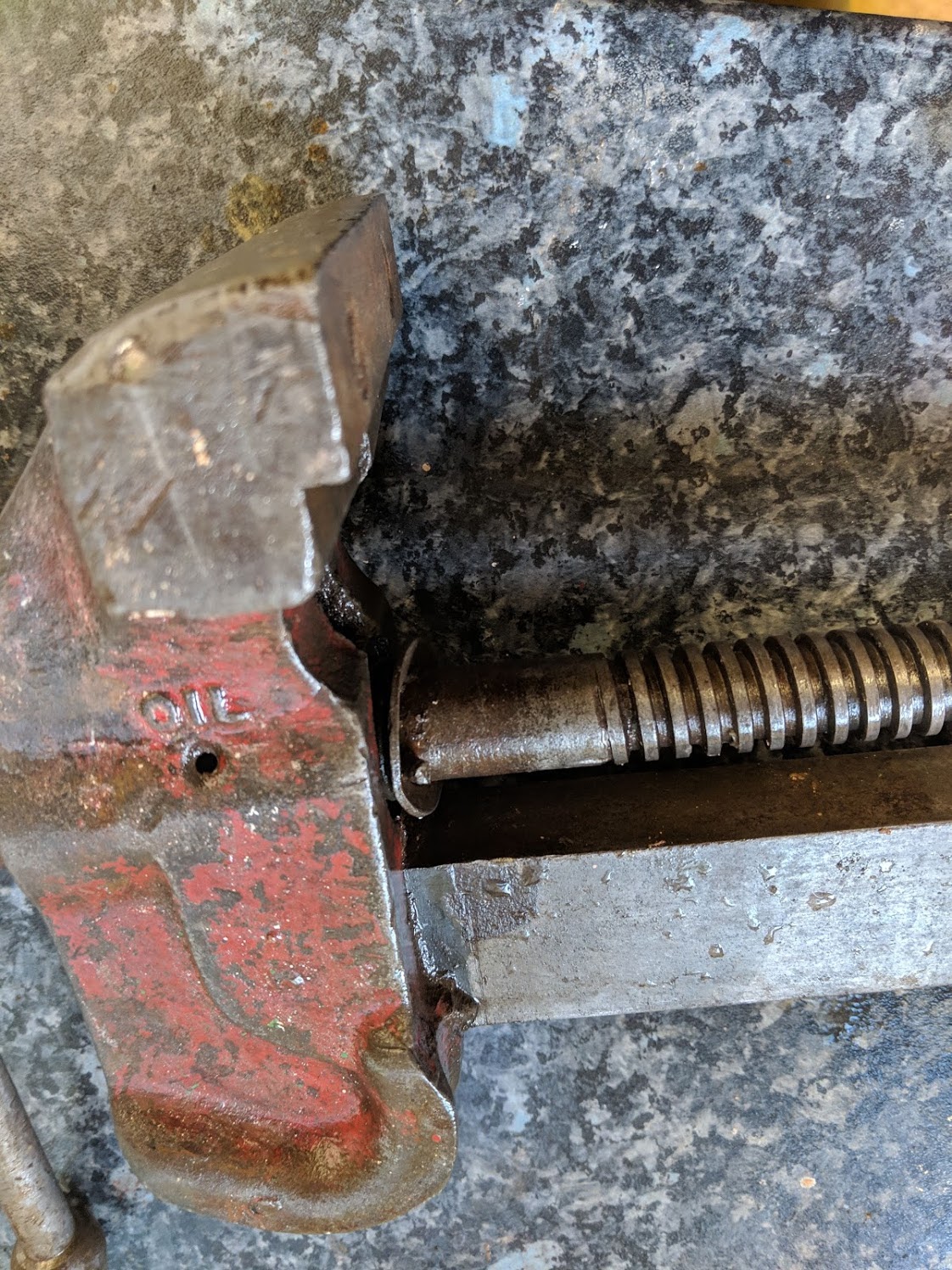 Once extracted a few whacks with a hammer got it back into shape, and a cut-down nail did as a replacement pin.
Having got it apart, a bit of elbow grease to remove 80 years of accumulated oil and grease plus various layers of paint (not sure why it was partly painted green – perhaps to distinguish it from others in a shared workshop?) and it looked like this: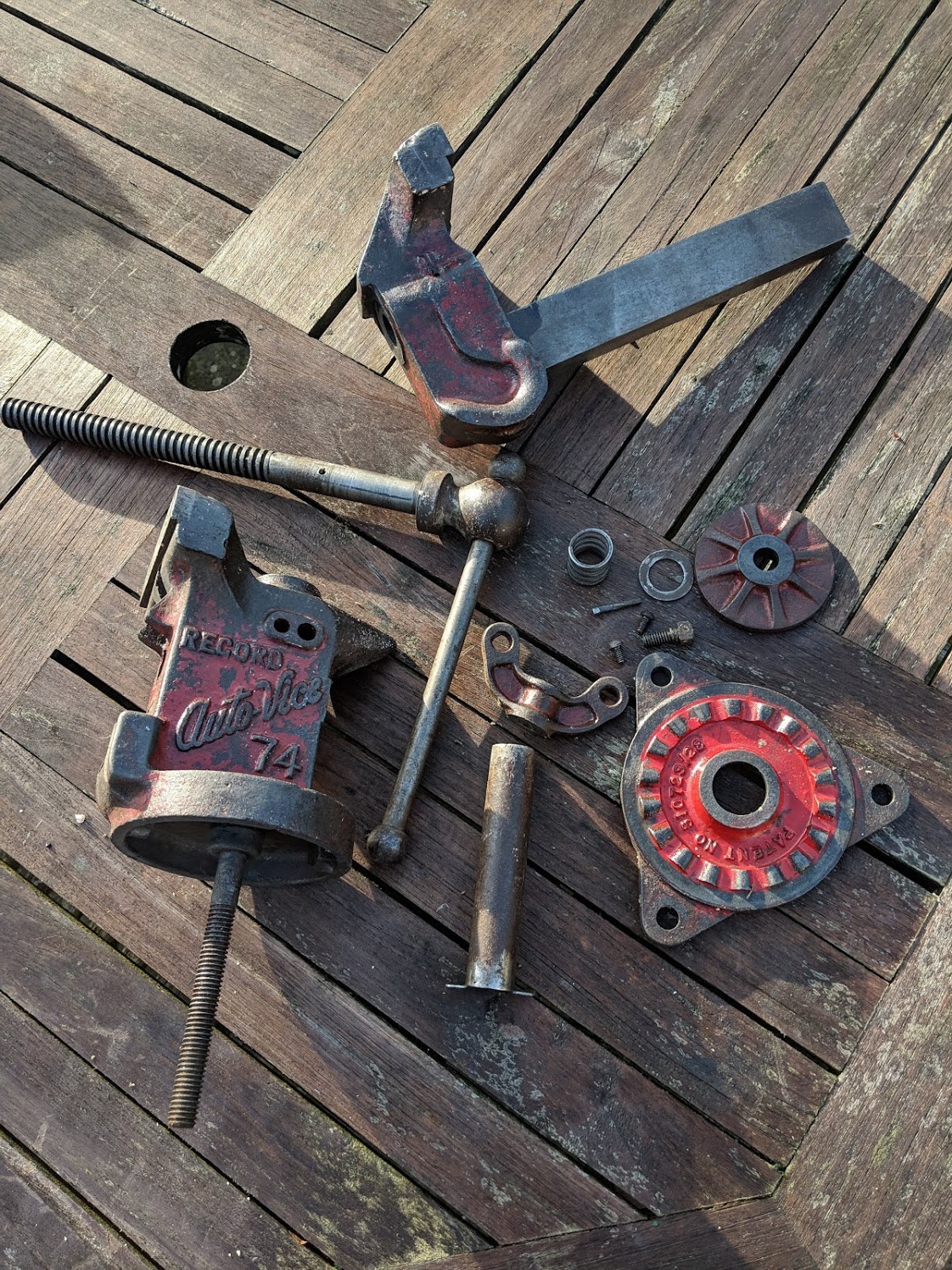 This model has a  patent number on it so we know it was made made some time between the summer of 1929, when the patent was filed, and the late 1940s when it would have expired.

I am pleased to report that, as with all Record products of this era, the quality is excellent with very well finished castings and a substantial steel slide and screw.
There is a larger version of this design (the model 75) which, in its earliest incarnations, was made completely of steel.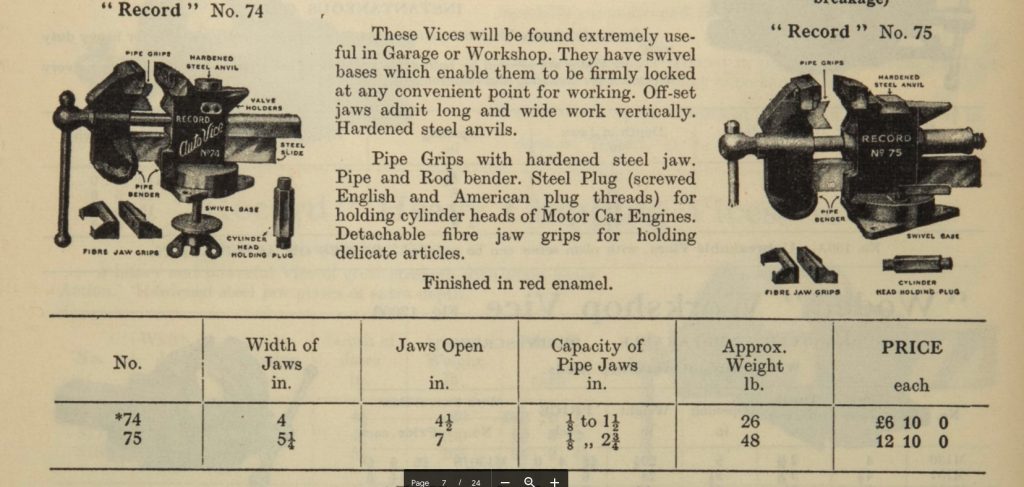 The Record 74 (and later versions of the 75) have a cast iron body, although the jaws and removable anvil are both steel.
It is simple to install: drill a 1/2 inch hole through the worktop and secure underneath with the large nut and washer. Here it is installed: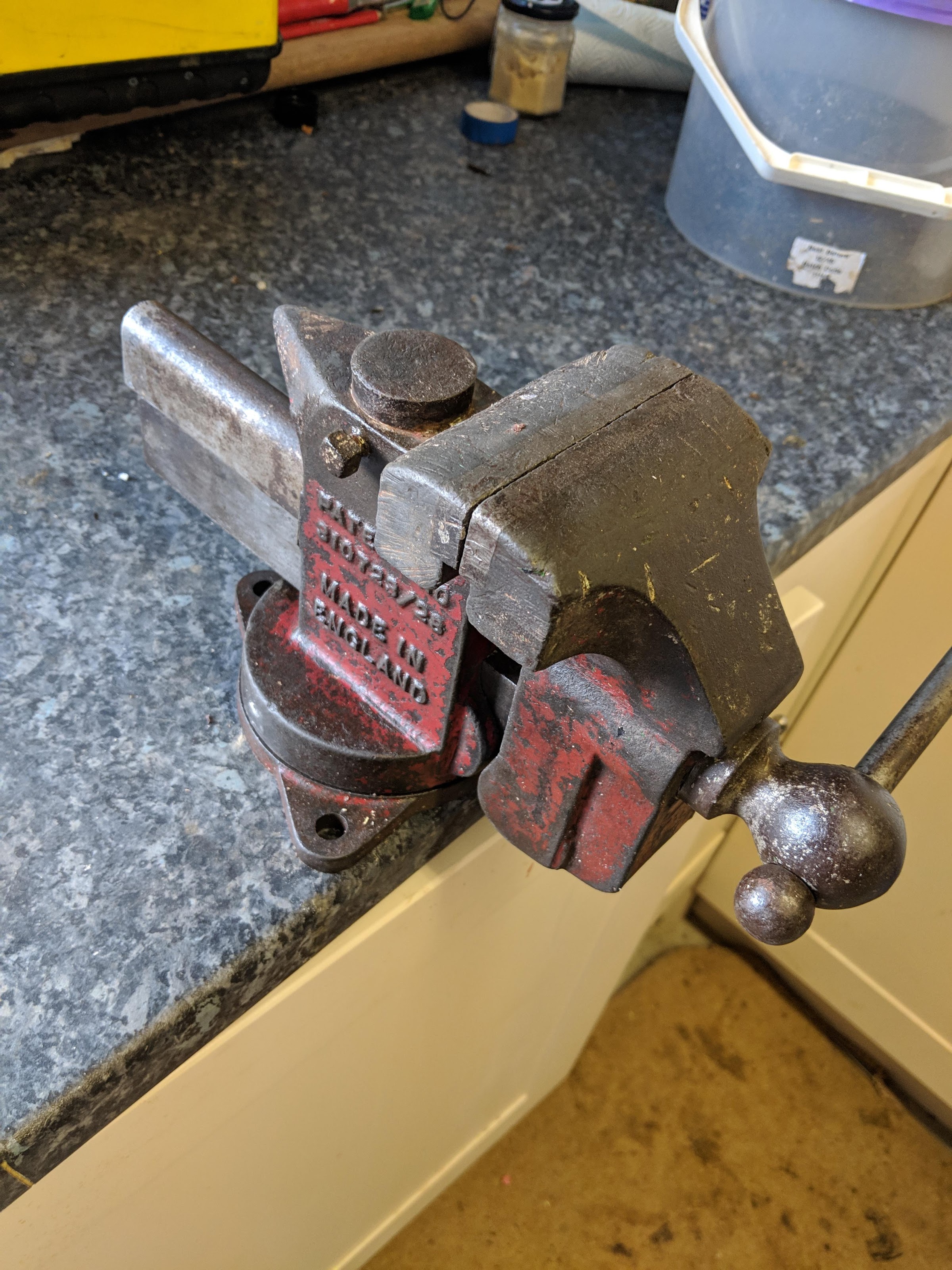 I found some replacement jaws on ebay, they were a good fit and suitable BSW threaded screws were supplied with the jaws.   The old slot head screws were impossible to remove with a driver so I had to drill them out (once the screw head is removed the tension on the thread is released and the shaft can be backed out with pliers) .
Owners of these vices who have lost the removable pipe holder attachment can breathe a sigh of relief since an enterprising ebayer has started making replacements (they are only available occasionally so you may need to be patient).   After I cleaned the old oil, grease and dirt from the slot in the body of the vice the new part was a perfect fit.   In a clever twist to to original design the maker of the new parts has installed a magnet in the base.   The magnet helps locate the attachment in the slot and also means you can attach it to the vice when not in use, thus never losing it again.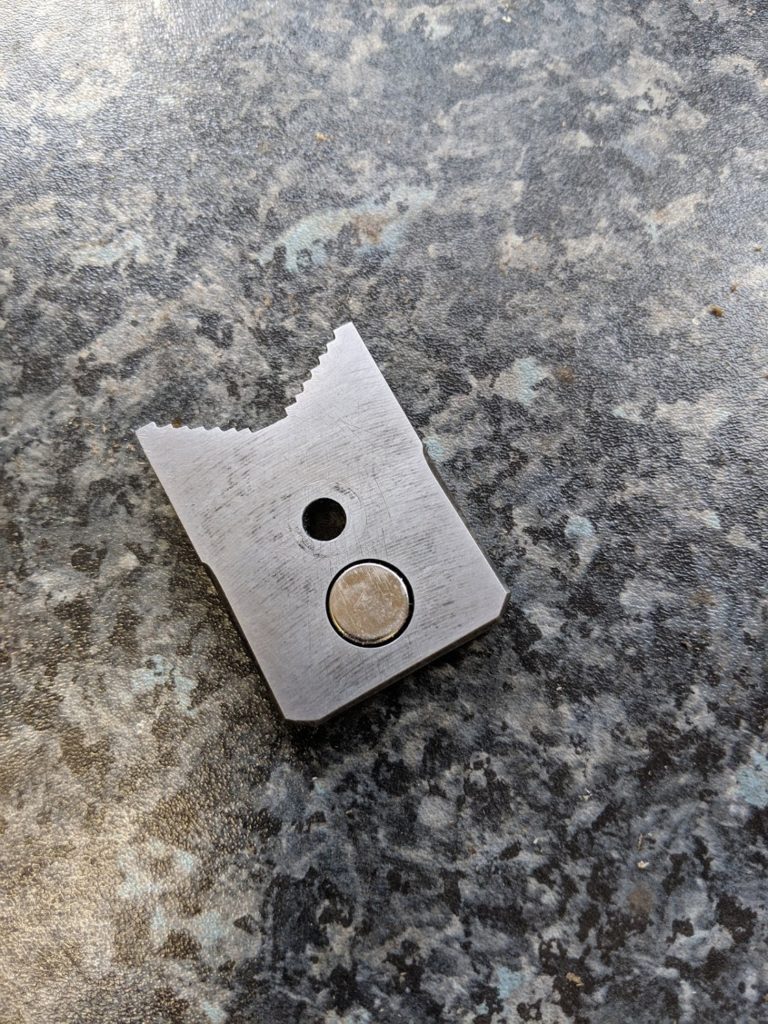 Finally I found some original fibre grips which turn up as new-old-stock now and then: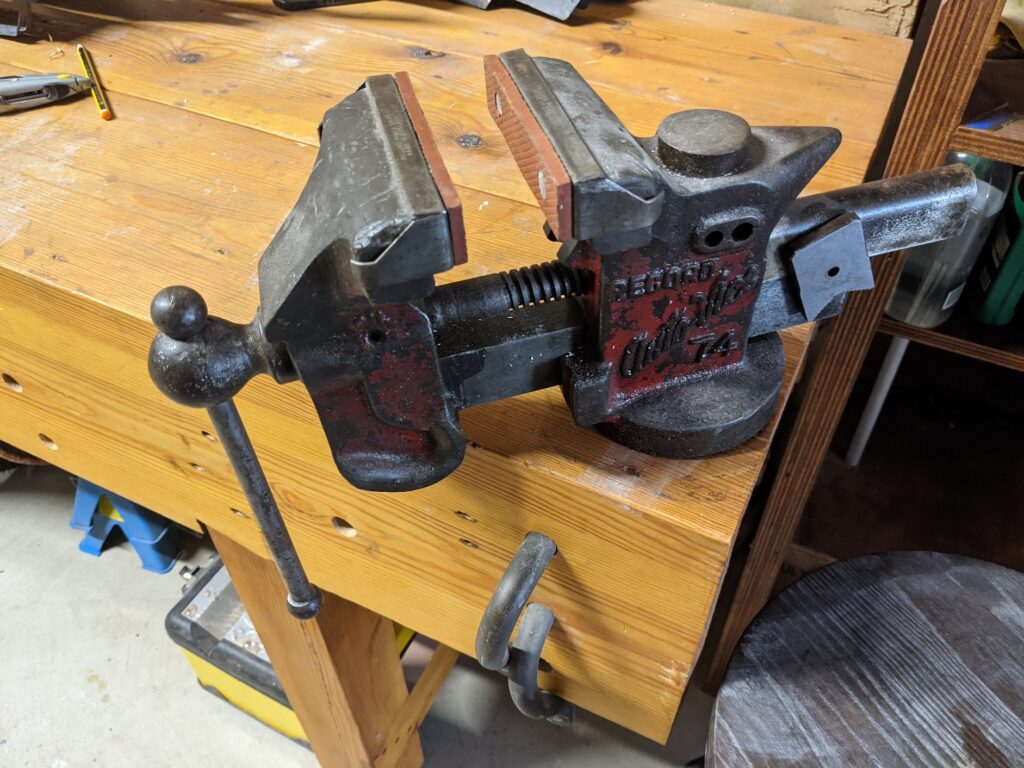 These vices are very useful in a small space since they are removable and can be lifted off their base and twisted to allow the vice to be repositioned on the bench.  This is very handy, for example, when you are working in a confined space on a long piece that has to be poked out of a near by window or door.  Also, the anvil is big enough to be useful on a surprising number of occasions.  The vice has some more unusual features – more on that here.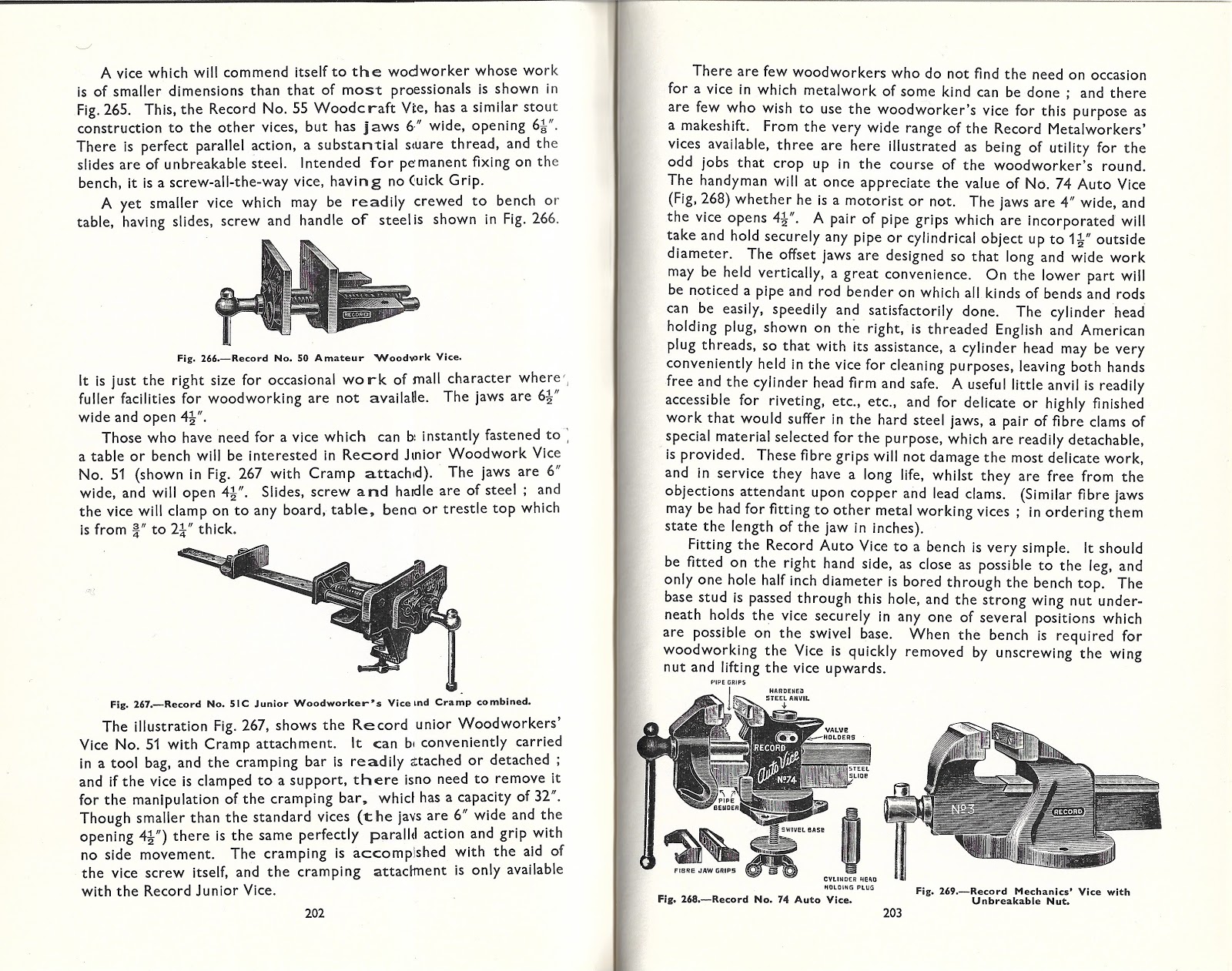 If you like the #74 you may also be interested in their excellent tiny sibling the  Record Imp