After a lot of hunting around I have decided to go for these – ecoled zep2. Made in the UK and definitely not cheap (60 quid each) but top quality so far as I have read.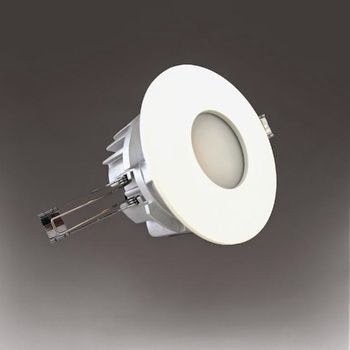 details:
800 lumens1, which is about the same as a 60 watt incandescent bulb
Coloring Rendering Index (CRI2) = 90 for v. warm white
Sadly the LED industry still seems unable to agree on standards for measuring some of the useful facts for comparing bulbs (e.g how long it can reasonably be expected to last before failing, and what the light output is in real user conditions) so I have to rely on the interwebs and the reassuringly expensive price to back up my belief that these are good ones.
One reason for opting for these is the size – they can be accommodated in a ~80mm void thus limiting the amount of the (already inadequate) headroom I need to gobble up with the ceiling.
background reading
cheapo led bulbs kill everyone who touches them shocker (actually well researched and pretty alarming!)
click here more than you ever wanted to know about lumens, lux and candella.
1 lumens = The unit of measurement of the flow of light, or 'luminous flux'. With light bulbs, it provides an estimate of the apparent amount of light the bulb will produce.
2 CRI represents the quality of light and its ability to render colours correctly