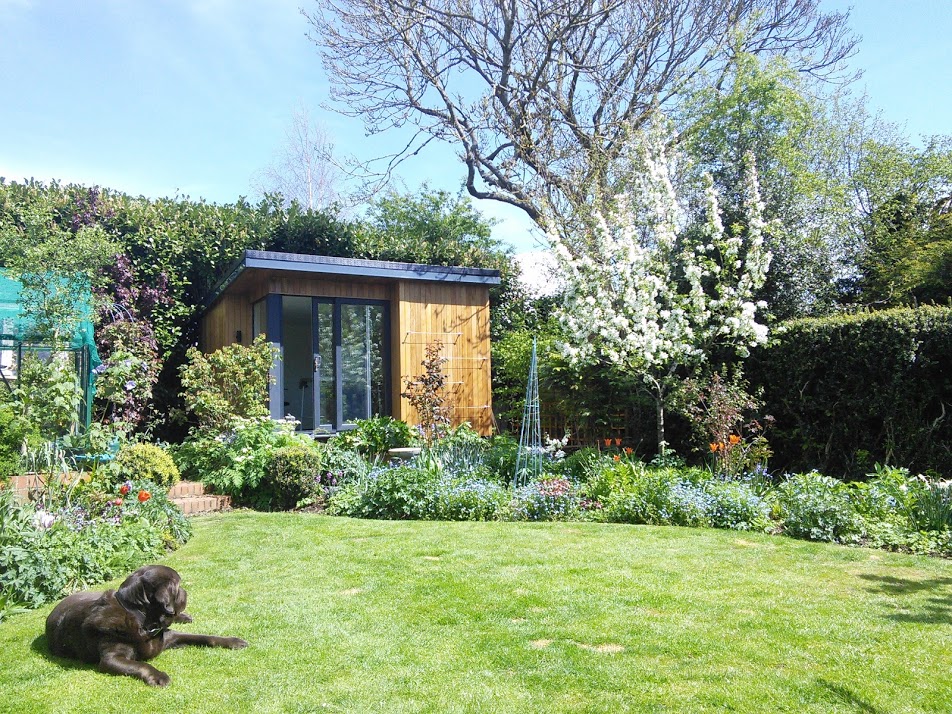 How much does it cost to build your own garden room?
Those of you with a good memory may recall that my original estimates on the build costs were around £6,000-£7,000, which after a bit of cursory research I imagined being spent like this:
SIP panels and sub-frame = 3300
plinths (footings) = 700
cladding = 800
window and door = 900
miscellaneous (plasterboard, fixings , lights, roof covering etc, guttering , etc) = 1000
TOTAL £6700
This was a pretty encouraging figure and enough to get me started on the project, but unsurprisingly it did not take long to start uncovering costs I had not considered.
My latest estimates is £8000. These were the main decisions that influenced the total costs:
Structure
I decided not to skimp on the SIPS and went for thicker than strictly necessary panels (125mm) on the walls and floor. Since I will not actually be living in the shed, the normal argument about long term energy cost savings does not really apply, but it is what I did anyway.
The panels, fixings, connecting timbers, breather membrane and sub-frame represent about 50% of the costs. Could this part have been done cheaper? Well, by far the cheapest approach is to build a log cabin and then to insulate it – which I think would easily halve the build costs – but that would be cheating.
It is possible to cut SIP panels yourself and avoid the costs the SIP maker incurs doing the manufacturing drawings, setting up the machines etc. I looked at this briefly, but you need some special equipment if you will be doing any serious work: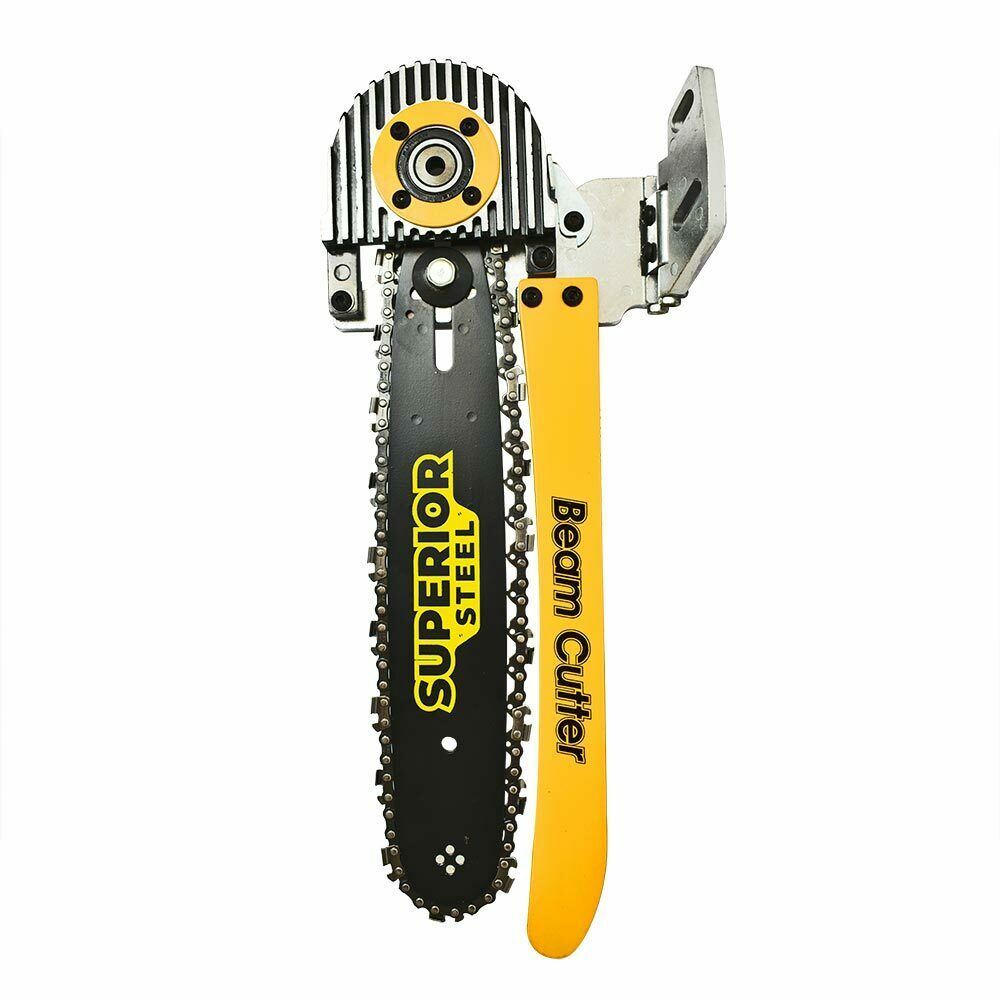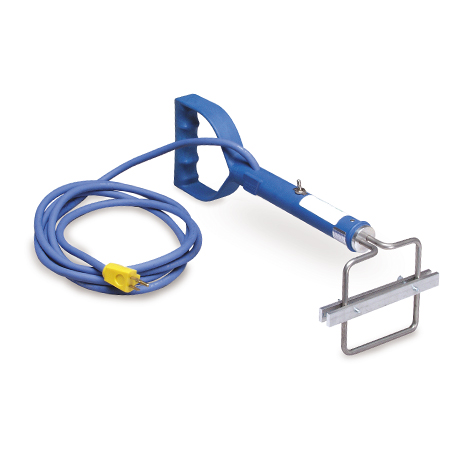 My guess is that unless you were doing a much bigger building, the cost of the tools & wastage from using standard 2.4×1.2m panels; plus all the expensive mistakes you would make doing it for the first time round would probably outweigh any savings.
Window and Doors
All the top-end garden buildings come with aluminum doors/windows, but the absolutely cheapest I could find a 1m window and 1.7 m sliding door was £1950 (supply only).
I am pretty sure this is a great price since the shop was recommended by a Geordie at work who is having some building work done. He is a self confessed skinflint, and the original recommendation is from his builder who he assures me is tighter than he is.
Anyhow, aluminum was way too expensive for my budget so I have to go with upvc. The same shop will supply window and door for a much more wallet friendly £890. The doors are manufactured by Eurocell, who are one of the few manufacturers selling in the UK who supply grey upvc facias.
As an aside, my door research took me briefly into the rather disturbing world of 'green building' . This is not a topic for the faint hearted, but I managed to stay engaged long enough to discover that the only remotely affordable super-eco door/window manufacturing firm is 'Russell Timber Technology'. This firm, as the name suggests, makes timber frame doors. The prices are still eye poppingly expensive though.
foundations
well I already covered this – not only am I going with an expensive 'mini plinth' option for fear of sinkage, but frankly I bottled it at the last moment and ordered 11 rather than 9 mini plinths – cost £750
Could this be done cheaper? it is essential that the wooden parts of your building never sit in standing water or touch the ground (it also needs to be raised at least half a foot from the floor so that it is not splashed by rainwater bouncing up from the ground).   It is possible to make home made plinths, by concreting in steel supports.
The other, more traditional approach, is to create a concrete base and then build a brick plinth on which to construct your walls, paying particular attention to the detailing to prevent water gathering between the brick and the timber. Although this of course means you must allow for the cost of the concrete.
cladding
I am still umming and erring about cladding, but out of necessity I have concluded already that I can't afford a posh finish on all 4 sides, so the 2 sides that face the boundaries will be clad in Versapan boards and painted.
These boards are cement particle boards that can be used externally – they cost about £9 per m2, which is significantly less that what it would cost to use a more attractive finish.
I really wanted to do something unusual on the sides visible from the house, since just about every other commercial garden room is done in western red cedar, but all the really cool alternatives are only imported in small quantities to the UK (and v. expensive).
The two I liked most were parklex and hardie panels.
.. sadly both out of my league in terms of costs and, although i have not entirely given up on painted steel cladding, it is looking like I will end up with western red cedar like everyone else
WRC is not cheap – between £37-41 pm2 depending on what grade you go for.
lights and electrics
…another money pit.
I have managed to find some led downligters that will fit into a 50mm cavity (I am trying to minimize the depth of the ceiling battens because the ceiling height is already pretty low) this plus the outdoor halogens = £300.
Add another couple of hundred for the consumer unit, armoured cable, switches, sockets and cables for the circuits in the building.
There is a tbd amount needed to have the connection established to the house and the work that I do in the building tested. I am guessing about 250 quid for this.
roof cover
I'm using firestone EPDM and managed to get this for a bargain £306, including adhesives, metal trim and fixings.
internal plasterboard
I am planning on using fermacell – this is not a cheap option, but I think worth the added expense compared to bog-standard gypsum based boards, for reasons I shall be droning on about later ~ £300
fascias and barge boards
the top and bottom of my building will be finished in grey upvc boards – probably another £200, but a lot cheaper than aluminum (which i would have preferred)
timber
£250 for the billions of battens needed to attach plasterboard and cladding
.. add another £150 for various nails, screws, glues and paints and you can see this is not a cheap project. Still too late to stop now!
status
The SIP panels arrived (I approved the SIP manufacturing drawings around 20th November, so around 3 weeks to make and deliver them)
Doors, windows and plinths are on order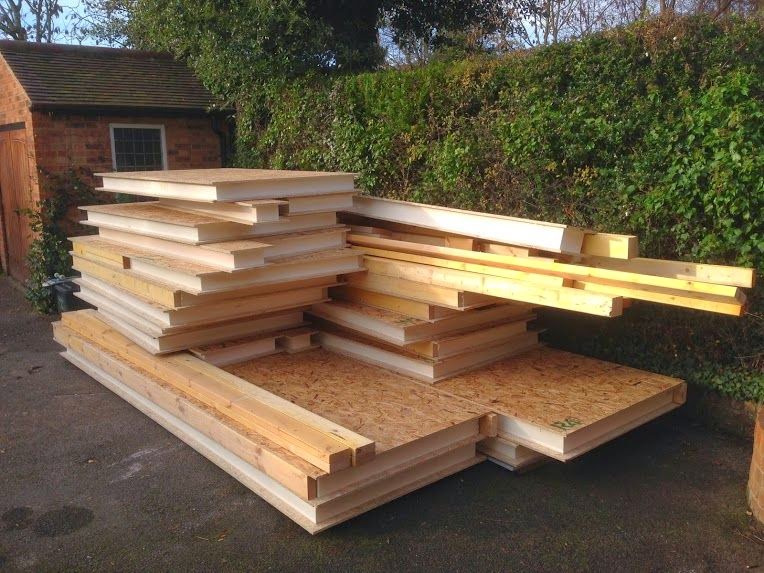 UPDATE – 2016
– interested in what it actually cost in the end?    Take a look here