I have been researching how to connect various dust extractions components to my vac. After a fair amount of investigation I had't found much useful information, other than it seems to be a well kept secret that the defacto standard diameter for the hose inlet for vacs is 57mm (2 1/4 inches).
Confusingly, when specifying hoses and connectors, manufacturers seem to use internal or external diameters at random, or they don't mention them at all, so it was not easy to find out what bits to get.
Eventually it occurred me to see what the excellent Peter Parfitt had to say on the matter, and it turns out he has some very good videos on dust extraction. As ever his videos are informative, enjoyable and well produced. In this one:
…about his ingenious 'dust hub' (to allow multiple connections to his vac) he explains that the machine end of a festool hose will fit nicely with the Axminster 63mm dust extraction kit (Axminster is a popular manufacturer/shop for tools in the UK). I don't have a festool hose to compare, but I did confirm that my nilfisk hose connector is 57mm, so should fit also)
So, I now have a rough idea on how to connect the vac to the table, using one of these 'blast gates':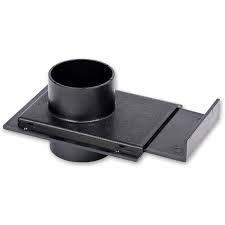 I will copy Peter's idea and install a power point fed from the power outlet on the vac into the top of the bench and adjacent to the blast gate, so I can continue to take advantage of the auto-start feature on the vac without having to fish around under the workbench to plug things into the front.
Also, and thanks again to Mr Parfitt, I now have some thoughts about how to include a cyclone in my shed – more on that later.